More Fun. Less Effort With eBikes
Explore the world famous Napa Valley up close and at your own pace on your electric bike rental from Napa Valley eBikes. Spend the day sightseeing through California's most beautiful wine country communities such as Napa, Yountville and St. Helena! Cruise the popular Napa Valley Vine Trail and ride alongside the iconic Napa Wine Train, meander along the lazy Napa River, or get off the beaten path and enjoy the backroads and hidden gems not easily explored in a car or tour bus. Ride to world renown wineries and eateries directly from our shop. Choose your own route or have our dedicated team help you plan an individualized adventure. The choice is yours! Less physical effort means that you can spend your time relaxed, enjoying your company while soaking in the breathtaking views. 
Don't want to be restricted by the slow pace and redundancy of guided ebike tours? Choose one of our self-guided tours and ride at your own pace while staying present in the moment. Have different riding abilities within your group? Simply adjust each bike's pedal-assist power to compensate and keep everyone together! Up for a workout? Adjust down the ebike's electric assistance for more of a challenge. With your electric bike rental from Napa Valley eBikes, your next visit to Napa Valley is sure to be more fun and with less effort!
See What Our Customers Are Saying About Us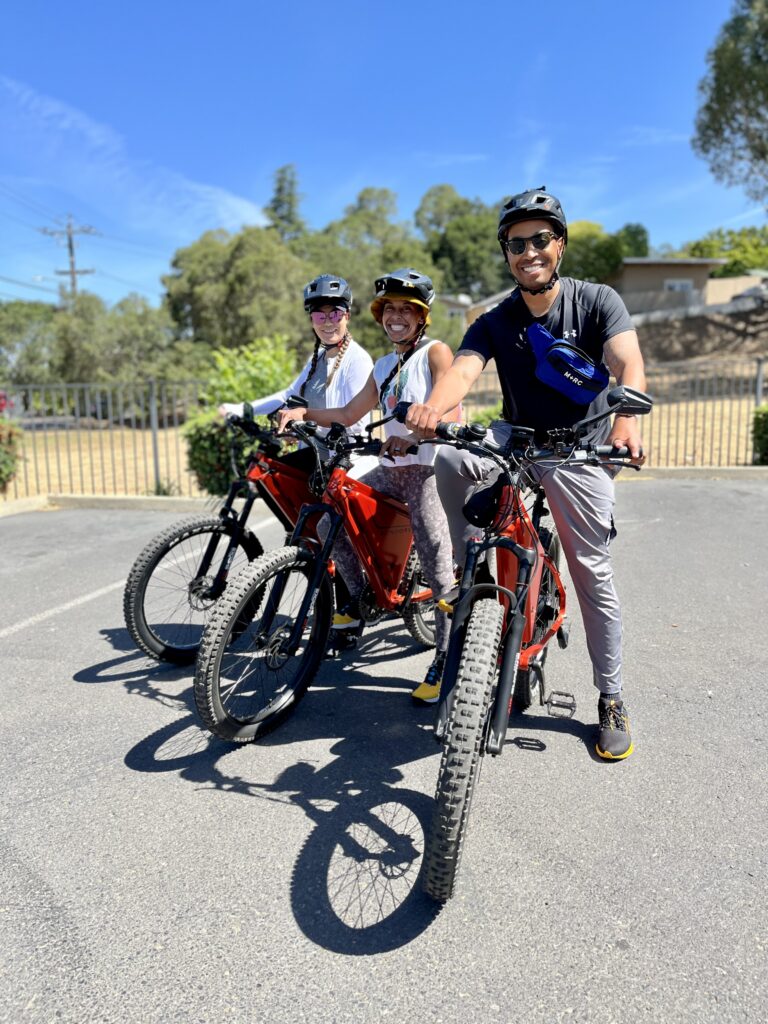 Napa Valley eBikes is proud to serve the Napa Valley by delivering the same world class experience and service the region is famous for. We are especially passionate about a few things: exploring new sights with family and friends, the joy and freedom felt while riding on two wheels, and providing our guests with an impeccable experience they will remember with fondness. Our electric bike rentals are very popular for those wishing to spend a few hours, or the entire day, in the culinary mecca of Yountville. We provide our guests with everything they need to enjoy the ride of their lives, including superior ebike models, cell phone and drink holders, safety lights, helmet and lock, and a printed map of local trails and destinations. With personal knowledge of local eateries, landmarks and not-so-known local favorites, your team at Napa Valley eBikes will help ensure a memorable day for your entire group.
Our shop is conveniently located near downtown Napa and directly on the Silverado Trail. Within a short walk of the Oxbow Public Market, CIA Copia, Gott's Roadside, the Bottlerock Festival and several Napa hotels, we get you riding in no time with a seamless check-out experience. From our versatile fleet of quality electric bikes to choose from, unparalleled customer service and our close proximity to countless landmarks, trails and wineries, Napa Valley eBikes is your first choice for fun things to do in the Napa Valley.
Napa Valley eBikes offers rentals from one hour to one week, along with ebike sales and services. Please contact us for more information on group rates, tours, team building events and customized corporate packages. Whether you want to ride for the day or a lifetime, we can accommodate you.