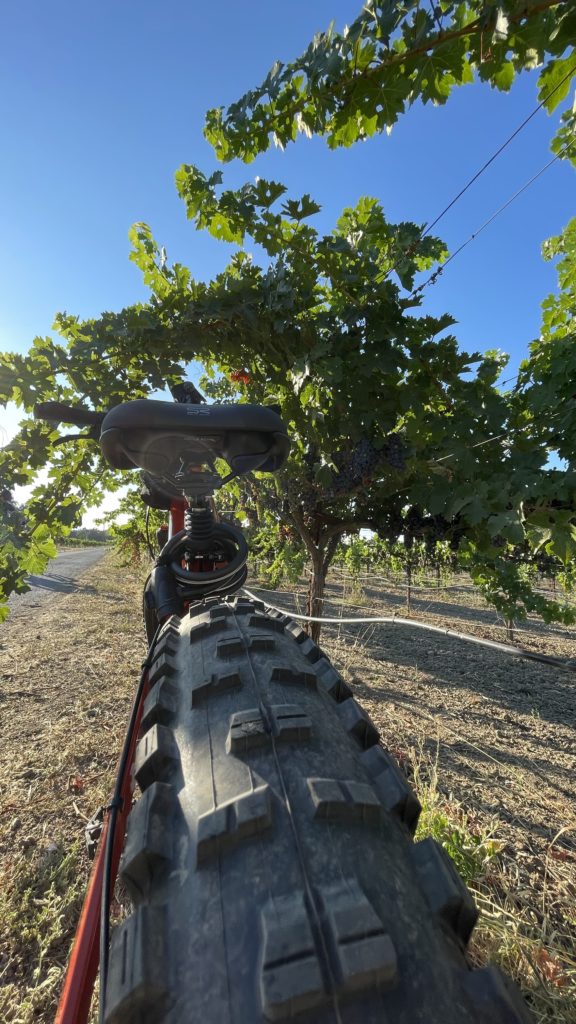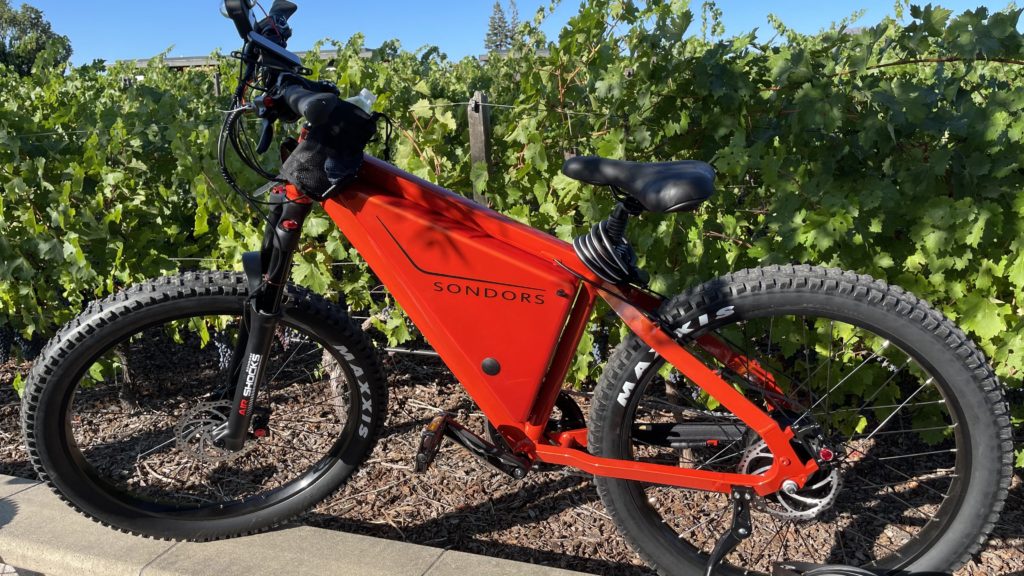 Stand out from the crowd with our premium electric ebike from Napa Valley eBikes. We offer multiple options for your group, from full-sized mountain bikes to a step-thru style with a lower center of gravity. Equipped with extra wide tires and long-lasting lithium batteries, our bikes are built with comfort and performance in mind and have all the power you need to explore the wine country at your own pace and without having to constantly check the battery levels.
You are sure to turn heads on our vibrant orange ebikes, which offer higher visibility for your safety. The large all-terrain tires provide you with stability, comfort, and confidence. Enjoy throttle power of up to 20 mph, with most models offering a battery range of 40-60 miles for all day riding. Whether you're here on vacation or enjoying a memorable day trip into wine country, Napa Valley eBikes has you covered with quality ebike rentals ranging from one hour to one week.
Napa Valley eBikes offers several reliable, high performance electric bike models:
MXS: Our rugged hardtail mountain bike has it all. With its powerful 750 watt motor, AirShocks front fork suspension, hydraulic disc brakes, wide 27.5" tires, top speed of 20 MPH and a range of 30-60 miles, the MXS delivers high end performance that matches your ambition. Track your speed and distance with a sharp color LCD monitor. The first choice for trail enthusiasts and thrill seekers alike, the MXS is a truly exceptional electric bike. Capable of rides to St. Helena and back with proper battery management.
X: The extra wide 5" tires on the X model truly stand out from the competition. While providing additional stability, these "fat tires" will enable you to crush your next off-road adventure with ease, obtaining speeds of up to 20 MPH. This head turning electric bike is downright fun, whether flying down trails at Skyline Wilderness Park or cruising past the Victorian homes on 1st Street in downtown Napa. The X is a blast to ride and has a range of 30-60 miles. Capable of rides to St. Helena and back with proper battery management.
Fold X: The popular Fold X is highly maneuverable and sports fat 4" tires, adjustable handlebars and a stable ride. With speeds up to 20 MPH, pedal assist settings from 0-5, and a premium gel seat, your Fold X ensures a comfortable all day ride. The impressive 30-60 mile range means you can push your adventure farther than you ever imagined. Our innovative Fold X, as the name implies, folds down for transport so you can take it directly to your favorite trail knowing it will be dialed in and ready to ride in seconds! Capable of rides to St. Helena and back with proper battery management.
Smart Step: When it comes to the perfect blend of fun and effortless, the Smart Step is just that! The low step through design is an excellent option for those less comfortable on a bike or with limited mobility. It boasts an impressive speed limit of 20 MPH and is ready to take you on explorations throughout this magnificent region with its 20-40 mile range. *Many of our Smart Step bikes have extra wide seats for enhanced comfort. Be sure to reach out to us directly to reserve one of these popular models.
When choosing your bike, a proper fit is important for your safety and to ensure a positive experience. Please review the booking page for height recommendations for each model.
*While we make every effort to accommodate your ebike of choice, Napa Valley eBikes reserves the right to assign your ebike to you due to factors such as availability and customer safety.
All models:
*Offer 5 levels of pedal-assisting power
*Have full-power thumb throttle
*Have a range of 20-60 miles and a speed limit of 20 MPH.
*Are equipped with high visibility lights, rear view mirror and a thumb bell
*Include free cell phone and water/accessory holder
*Will be custom fit to each rider.
*Have been thoroughly inspected by our team.
*Have a 7 speed RevoShift grip shifter