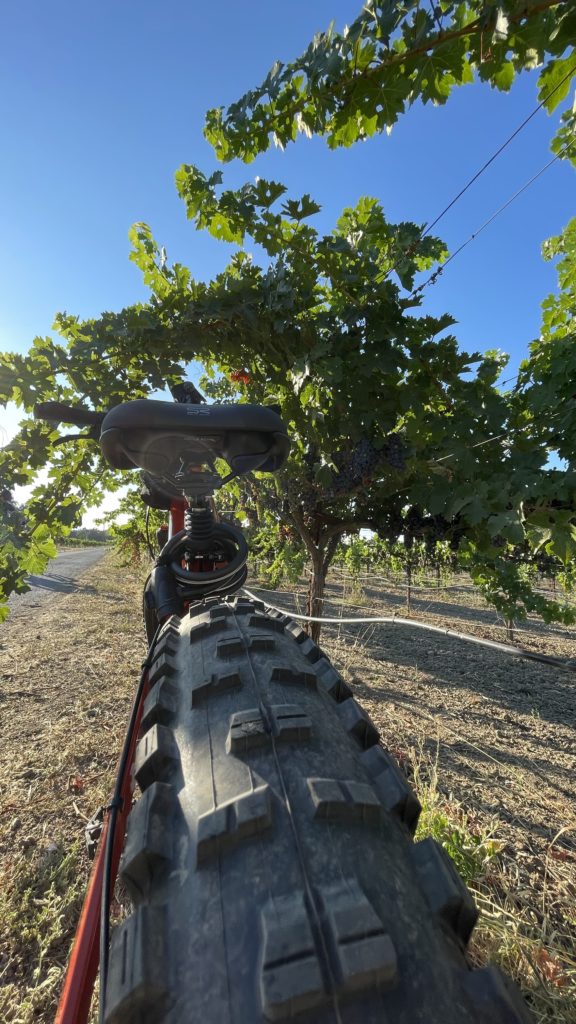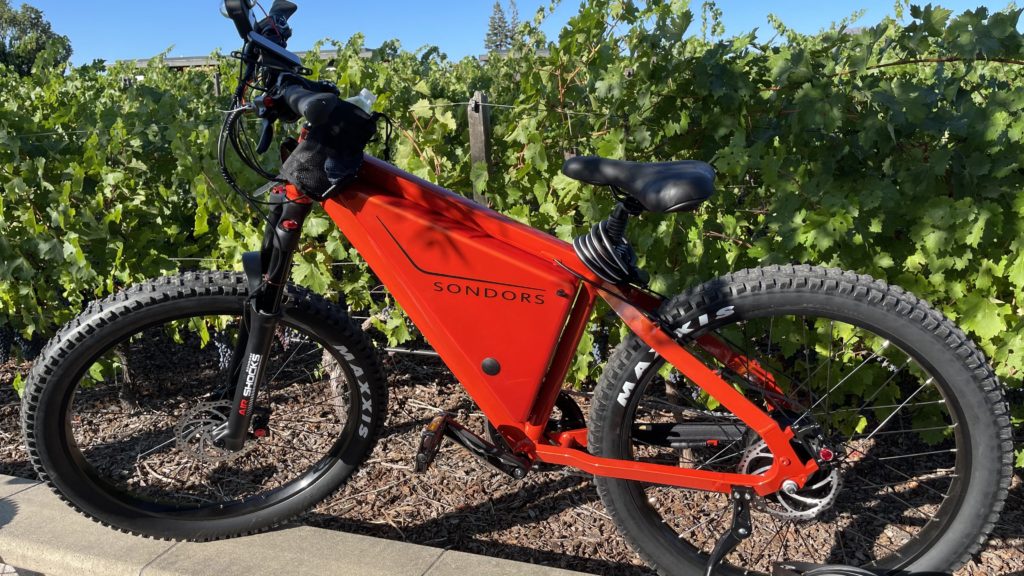 Stand out from the crowd with our premium electric ebikes from Sondors. We offer multiple options for your group, from full-sized mountain bikes to a step thru style with a lower center of gravity. Equipped with extra wide tires and long-lasting lithium batteries, our bikes are super comfortable and have all the power you need to explore the wine country at your own pace.
You will turn heads with our vibrant orange color and wide all-terrain tires. These large tires provide you with stability, comfort, and confidence. Enjoy throttle power of up to 20 mph with a long-lasting battery range of 40 – 60 miles. Whether you're relaxing on vacation, cruising downtown Napa with friends, getting a workout or exploring our spectacular scenery, you control how fast you roll.
Napa Valley eBikes offers three head-turning models from Sondors:
MSX: Our rugged hardtail mountain bike has it all. With it's powerful 750 watt motor, AirShocks front fork suspension, hydraulic disc brakes, wide 27.5" tires and a range of 40-60 miles, the MSX delivers high end performance that matches your ___  . Track your speed and distance with a sharp color LCD monitor. The first choice for trail enthusiasts and thrill seekers alike.
Fold X: The popular Fold X is highly maneuverable and sports super fat 4" tires, adjustable handlebars and a stable ride. With speeds up to 20 MPH, pedal assist settings from 0-5, and a premium gel seat, your Fold X ensures a comfortable all day ride. The impressive 40-60 mile range means you can push your adventure farther than you ever imagined.
Smart Step: When it comes to the perfect blend of fun and effortless, the Smart Step is just that! The low step through design is an excellent option for those less comfortable on a bike or with limited mobility. It boasts an impressive speed limit of 20 MPH, and capable of leading you on explorations throughout the sun drenched valley with it's 25-40 mile range.
When choosing your bike, a proper fit is important for your safety and to ensure a positive experience. Sondors MSX is the best choice for those 5'6″ and taller. Anyone who is 5'5″ and under should consider booking a Fold X or Smart Step for a more comfortable ride.
*While we make every effort to accommodate your ebike of choice, Napa Valley eBikes reserves the right to assign your ebike to you due to factors such as availability and customer safety.
All models:
*Will be custom fit to each rider.
*Have a range of 30-60 miles and a speed limit of 20 MPH.
*Have a 7 speed RevoShift grip shifter
*Are equipped with high visibility lights and a thumb bell
About Electric Bikes
What are they?
Electric bikes are bicycles with an electric motor attached to them that can be used to assist with peddling on 5 different power levels. E-Bikes allow riders to go farther faster. They level the playing field between advanced and beginner riders, add distance to any ride and make hills a breeze. As we like to say here at Napa Valley eBikes, twice the fun for half the effort!
Why ride them?
Maintaining a physically active lifestyle is a proven way to help keep the mind and body healthy. And while your ebike provides effortless propulsion as long as you need a break, it can still operate like a regular bike.
Avoid the hassle of parking and traffic
Napa Valley eBikes is excited to offer you the opportunity to discover the joy of biking again. No more will your climb uphill make your heart pound if you do not want it to. The pedal assist on these bikes will allow you to choose your level of effort, all the way from no assist to total assist. Feel the huge grin on your face as you easily complete a 40 – 60-mile ride up and down hills and around our beautiful area.
Are they for me?
Do you hate riding against the headwinds? Have not ridden a bike in 20 years? Slightly out of shape? Recent knee replacement or health issues? Do you just like to have fun? Do you enjoy riding traditional bicycles? We have heard from countless f
Sounds like e-bikes are for you! Give them a shot!